FORTY DOLLAR NO LIMIT TEXAS HOLD'EM RING AND TOURNAMENT GAMES by Kim Isaac Greenblatt, copyright August 2007, All Rights Reserved
Excerpt from Kim Greenblatt's upcoming book.
Here is an example of a SNG (Sit and Go) single table $40 NL tournament.
They tend to be played quickly, in fact, in this game, I think this one went by so fast the blinds didn't even change! That tends to be the exception rather than the rule. The single table or SNG tournaments tend to be completed between one to three hours. Some casinos have electronic machines now where the game play is similar to playing on the internet. Players sit down at a machine, generally have a computer card similar to a debit card and a pin number. They enter that to play. There is no dealer so the games move much faster. Some players hate these machines, some players love them. Some players don't trust them, similar to their distrust of the web. You make the decision and play accordingly.
What are some major differences between a 40 NL and a 40 SNG?
1. Limited resources - you generally start with a finite bankroll and that is that. You may (rarely) get a chance at a re-buy in the $40 NL SNG but that still usually isn't a lot.
At the $40 NL sit and go, everybody buys in usually for the same amount ($40 with a small portion going to the card club/casino and the remaining money going into the tournament pot). Everybody starts with the same stack size of chips – usually something between $500-800.
2. Limited game lifespan - unlike a video game where you can restart the level, once you are knocked out of the tournament that is it. In a ring game, you can shrug your shoulders and just re-buy some stacks of chips to continue. In a tournament, once you are knocked out, that is that.
3. Cash rewards tend to be limited to first and second positions - Unlike a ring game where you can make a little money and leave, there generally isn't a reward for even placing third in these mini-tournaments. You need to place in either first or second (and rarely third in some tourneys) to be in the money.
4. Once the blinds start changing, you as a player may be forced into making less than optimal decisions since your stack of chips will be blinded away sooner rather than later!

What are some similarities between a 40 NL and 40 SNG?
1. You still need to catch cards to win.
2. Some days you get lucky, and some days you are unlucky. You can't take it personally.
3. Large chip stacks and bullying can work if applied judiciously. I have been clobbered trying to "over-bully" a table. Learn from my mistakes and don't mistake table dominance from greediness!
With that in mind, let's go through a tournament where I made some good decisions, some bad decisions, and had a little bit of good luck with me
as well.
back to the home page for more excerpts
-----------------------------
10 DIGIT ISBN/SKU: 0977728277
13 DIGIT ISBN Complete: 978-0-9777282-7-5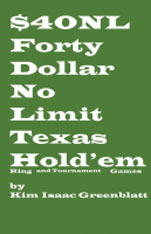 -----------------------------
The book can be ordered in the U.S. at Amazon or Barnes and Noble.
UK VISITORS can order the book through Amazon UK on the web.
VISITORS from other countries please order through either Amazon, Amazon UK, or Barnes and Noble. When going to the store please request the book by it's title for ordering "Forty Dollar No Limit Texas Hold'em Ring and Tournament Games" or order the book by it's ISBN number - either the ISBN-10 0-9777282-7-7 or ISBN-13 978-0-9777282-7-5 .
Part of the proceeds from the poker book sales go to research for a cure for Rett Syndrome. Rett Syndrome hits one out of every 15,000 girls born worldwide. Boys born with the Rett gene die at birth. For more information visit here
Suggestions or comments? Please email the author at kimg@practicallowandnotlimitholdem.com
For more information on Rett Syndrome, click here.
For books on other syndrome and conditions that might be of interest to you or others, click here.