excerpts from FORTY DOLLAR NO LIMIT TEXAS HOLD'EM RING GAMES by Kim Isaac Greenblatt, copyright August 2007, All Rights Reserved
Hand #15
$40 No Limit Texas Holdem ($1/$2 NL)
Table With Mixed Aggression
1} Kim G $93 Td 8s
2) Player 2 $44 3h 7s
3) Player 3 $37 Ks 6d
4) Player 4 $42 8h Th
5) Player 5 $43 Jh 4c
6) Player 6 D $31 Qc Kd
7) Player 7 $38 2s 9c
8) Player 8 $29 Jc Qh
9) Player 9 $21 9h 3c
10) Player 10 $52 5c 8c
Player 7 posts small blind $1
Player 8 posts big blind $2
Player 9 folds
Player 10 folds
This is another clear fold.
Kim G folds
Player 2 folds
Player 3 folds
Player 4 raises $5
Player 5 folds
Player 6 folds
Player 7 folds
Player 8 folds
Player 4 wins $5 uncontested
---
Hand #16
$40 No Limit Texas Holdem ($1/$2 NL)
Table With Mixed Aggression
1} Kim G $93 Qs 7d
2) Player 2 $44 3d 3c
3) Player 3 $37 Kd Jc
4) Player 4 $45 4h 2h
5) Player 5 $43 4c 2d
6) Player 6 $31 Ts 4d
7) Player 7 D $37 Ac Ks
8) Player 8 $27 Kc 3s
9) Player 9 $21 Th Ad
10) Player 10 $52 Qh 5d
Player 8 posts small blind $1
Player 9 posts big blind $2
Player 10 folds
And as I have pointed out again and again, most of the time you will be getting junk cards and you need to play them accordingly. The one exception would be in a tournament which we will get to later on in another series of hands.
Kim G folds
Player 2 calls $2
Player 3 calls $2
Player 4 folds
Player 5 folds
Player 6 folds
Player 7 raises $9
Player 8 folds
Player 9 folds
Player 2 folds
Player 3 folds
Player 7 wins $9 uncontested
10 DIGIT ISBN/SKU: 0977728277
13 DIGIT ISBN Complete: 978-0-9777282-7-5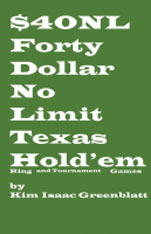 -----------------------------
The book can be ordered in the U.S. at Amazon or Barnes and Noble.
UK VISITORS can order the book through Amazon UK on the web.
VISITORS from other countries please order through either Amazon, Amazon UK, or Barnes and Noble. When going to the store please request the book by it's title for ordering "Forty Dollar No Limit Texas Hold'em Ring and Tournament Games" or order the book by it's ISBN number - either the ISBN-10 0-9777282-7-7 or ISBN-13 978-0-9777282-7-5 .
Part of the proceeds from the poker book sales go to research for a cure for Rett Syndrome. Rett Syndrome hits one out of every 15,000 girls born worldwide. Boys born with the Rett gene die at birth. For more information visit here
Suggestions or comments? Please email the author at kimg@practicallowandnotlimitholdem.com
For more information on Rett Syndrome, click here.
For books on other syndrome and conditions that might be of interest to you or others, click here.