PRACTICAL LOW AND NO LIMIT TEXAS HOLD'EM RING GAMES
Nov 11 2007. My new book, FORTY DOLLAR NO LIMIT TEXAS HOLD'EM RING AND TOURNAMENT GAMES is out and you can read some excerpts from sample chapters here.
Please navigate through the pages here or below for the $40NL book.
You can reach the pages here: Forty Dollar No Limit Texas Hold'em Ring and Tournament Games copyright 2007 by Kim Isaac Greenblatt All Rights Reserved.
If you want to go to a snippet from the $40 NL Tournament section (SNG, etc), please click here.
Take me to the $40 NL SNG sample pages please
Drop me a line if you have any questions (email is at the bottom of the page and in the Subject section put 40NL or you will not make it through the spam filter), comments or things that you want to see in the book. Right now it is a Work-In-Process - with typos etc :).
There isn't a lot online for this section yet but please be assured there is in the book. Web pages will not reflect actual page counts when I have everything completed! I am trying to get web pages up as best as I can time permitting! The $40NL book excerpts are as follows:
Introduction To Forty Dollar No Limit Texas Hold'em Ring Games
The $40 Approach An Example of Bad Play How To Handle Lady Luck When She Turns Against You Session Late At Night Hands 3-5 Hand 6
Hand 7 Hand8 Horse Race Hand 9 Hands 10-11 Hands 12-13 An Example of a "Hand That Plays Itself" Hand 14 Hands 15-16 Hands 17-18
Hands 19-20 Hand 21 Hand 22 Placed On Something Hands 23-24 Nowheresville: Population - Me! Hands 25-26 Hands27-28 Hands 29-30
Hand 31 Hands 32-33 34-35 36-37 38-39 40-41 Hands 42-45 Hands 46-48 49-50 51-52 53-54 55-56 57-58 59-60
Hands 61-63 Some Bullying and A Nice Big Blind Hands 64-67 68-71 72-73 74-75 76-78 79-80 81-82 83 84-86 87-88 89-90 91 92 93 94 95-96
$40 NL SNG Appoach and Example Hands 1 and 2 Hands 3 and 4 Hands 5 and 6 Hand 7
My PRACTICAL LOW AND NO LIMIT TEXAS HOLDEM BOOK is out and for sale. That book deals primarily with LIMIT games and some NO-LIMIT.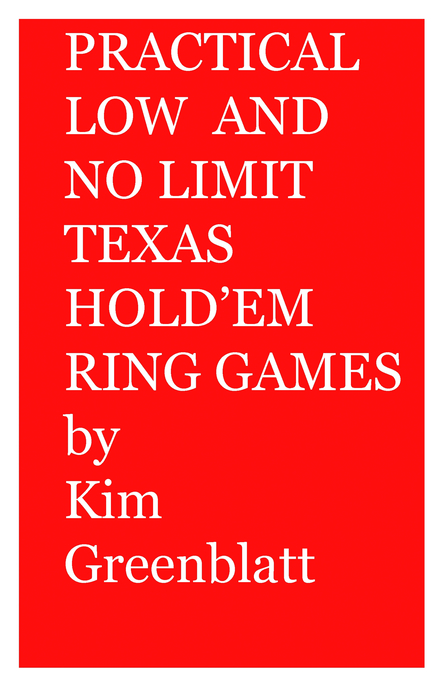 ***** PART OF ALL SALES GO TO RETT SYNDROME RESEARCH.*****
INTERESTED IN CRAZY PINEAPPLE 8/b POKER ? click here.
PRACTICAL LOW AND NO LIMIT TEXAS HOLD'EM RING GAMES
Publisher: Kim Greenblatt
Published in West Hills , California , USA .
ISBN-10 0-9777282-1-8
ISBN-13 978-0-9777282-1-3
Library of Congress Control Number: 2006903400
164 Pages US $17.95
Title: Practical Low and No Limit Texas Hold'em Ring Games
U.S. VISITORS to this site can order the book from the publisher on the link below :
 

The book can be ordered from the Gambler's Book Shop here.

The book can also be ordered in the U.S. at Amazon or Barnes and Noble.

UK VISITORS can order the book through Amazon UK on the web.

VISITORS from other countries please order through either Amazon, Amazon UK, or Barnes and Noble. When going to the store please request the book by it's title for ordering "Practical Low and No Limit Texas Hold'em Ring Games" or order the book by it's ISBN number - either the ISBN-10 0-9777282-1-8 or ISBN-13 978-0-9777282-1-3 .

Practical Low and No Limit Texas Hold'em Ring Games

A book by Kim Isaac Greenblatt

This book is for players who play low limit ring games, low nolimit games and anybody who wants to tighten their game up. The book will not teach you anything earthshaking and will not make you a World Poker Tour player. It will make you a more conscious player of where your leaks are and help you plug them. Considering that the cost of the book is less than the cost of a night playing poker, it is worth the investment!

This book will remind you of the things that you already know (or should know) about playing Texas Hold'em but may not be doing:

*Review an approach for playing low limit poker*

*Review a low limit ring game session*

*Learn (or review) how to calculate the binomial distribution formula*

Forget about trying to win high stakes games and first get back to basics, namely winning!!!!

Part of the proceeds from the poker book sales go to research for a cure for Rett Syndrome. Rett Syndrome hits one out of every 15,000 girls born worldwide. Boys born with the Rett gene die at birth. For more information visit here

Download the spreadsheet referenced in the book here.

Please check out the other site, Kim Greenblatt Publishing here to order books from - part of all sales go to Rett Syndrome research!

Other than my normal low limit games I play in - I did play at a tournament in Las Vegas as part of a marketing trip. Read about it here.

Suggestions or comments? Please email the author at kimg@practicallowandnotlimitholdem.com
For more information on Rett Syndrome, click here.

For books on other syndrome and conditions that might be of interest to you or others, click here.